About Tribe Spirit
Tribe Spirit is a mystical darkfolk music project, inspired by nature, tales and mythologies from different backgrounds. It was created by Selkie Anderson, a singer, composer and multi-instrumentalist from Germany.
In 2020 Mike Modulacja (Electronic Music Alchemist & Sound Designer) was a featured artist on the album "Otherworld Paths" and later joined the project. Together they create music for journeys into the wondrous worlds that surround us, without and within.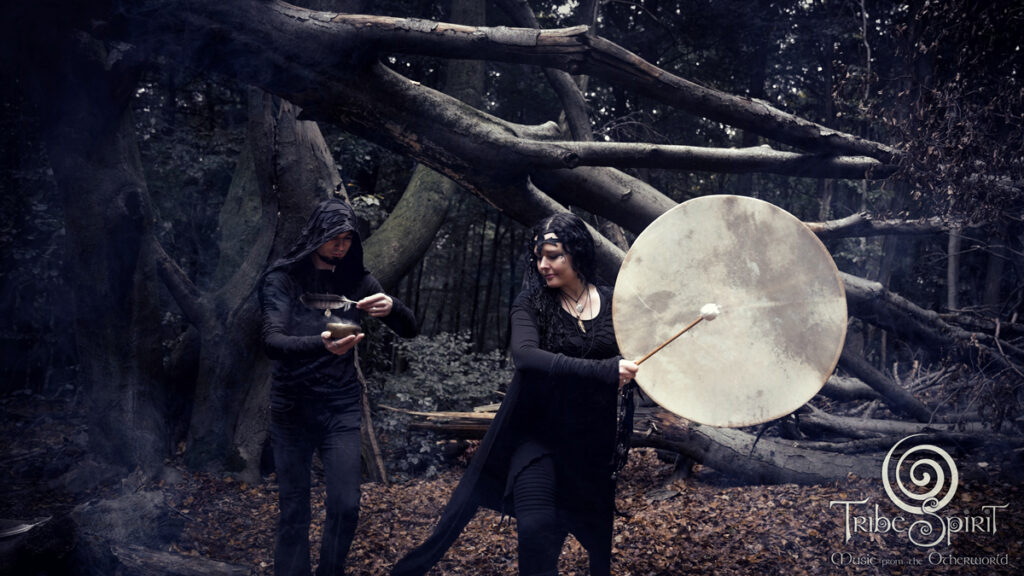 Music from the Otherworld – the Story behind Tribe Spirit
Tribe Spirit was started in late 2016 as a project of Selkie Anderson. A deep love for nature, stories and unusual instruments inspired the concept, as well as the songs.
The name Tribe Sprit was chosen, as one intention of the project was to connect with other artists, be it musicians, performance artists or other creative souls. There is such beauty in finding kindred spirits to collaborate with, and in that emphasize on the connection we all share in the realm of the arts. Everyone who has contributed to this project is a part of the Tribe, be it live musician, featured artist, roadie, supportive friend or listener – willing to enter the flow of the music.
In June 2017, the first album "Spirits, Tales and Fire" was released, featuring her many different instruments like the harp, the hang, the guitar and the frame drum. After the release of the album, percussion player, multi-instrumentalist and friend Daniel Rotfuchs joined the project for a while for some live session work and performances.
The material for the second album "Otherworld Paths" was inspired, written and recorded between March and November 2020. This creation is dedicated to the transformational journey through the inner worlds and also features fellow artists.
With Sound Alchemist Mike Modulacja on board, the project is now evolving into its next form, on stage as well as in studio.